What?: Steadman As She Goes is an irreverent and cynical British antidote to all the hippy-dippy, wishy-washy, motivational-post-filled travel blogs out there. If you too are fed up of the gushing, humourless travblogs that every backpacker and their dog has, you may enjoy this blog. SASG covers the international and the domestic, the expensive and the cheap, the obvious and the obscure – all in bluntly honest terms. Obviously some things are awesome, and will be described as such. But rest assured, this is a whitewashing/sycophancy-free zone.
Who?: The Steadman in question is Jen Steadman, a 26-year-old University of Exeter English Lit graduate and Countdown queen from Paddock Wood, England. She is a digital marketing executive, and is passionate about the history of Britpop, Tonbridge Angels FC, cider, and (obviously) travelling.
Why?: Quite simply, growing up in rural-ish Kent makes visiting any place that isn't a southeastern version of a Midsomer Murders town a hugely exciting prospect.
Where?: (Now complete with links to articles when you click on a pinned place! If I've written one, that is)

Where next?: My aims now are to finish Europe (i.e. visit every sovereign nation in Europe, currently on 41/47) before I'm 30 and go to countries outside of Europe. Not bothered about visiting every country in the world.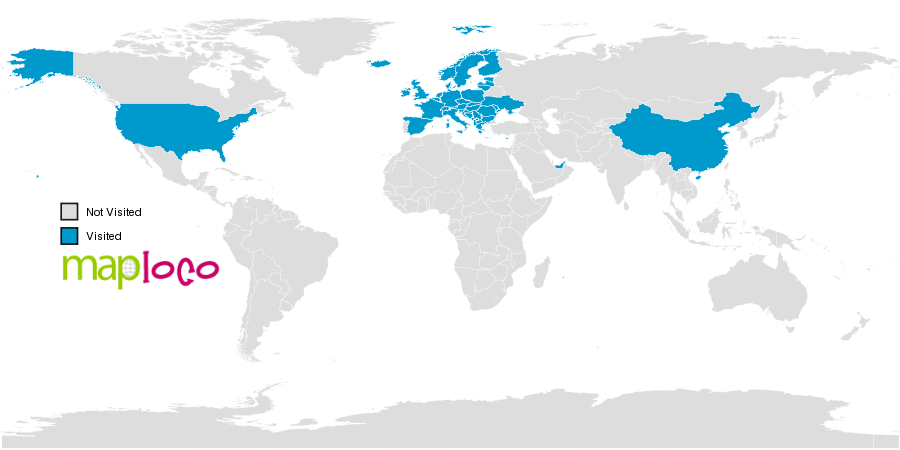 Create Your Own Visited Countries Map